Bank of America honors groups as 2022 Neighborhood Builders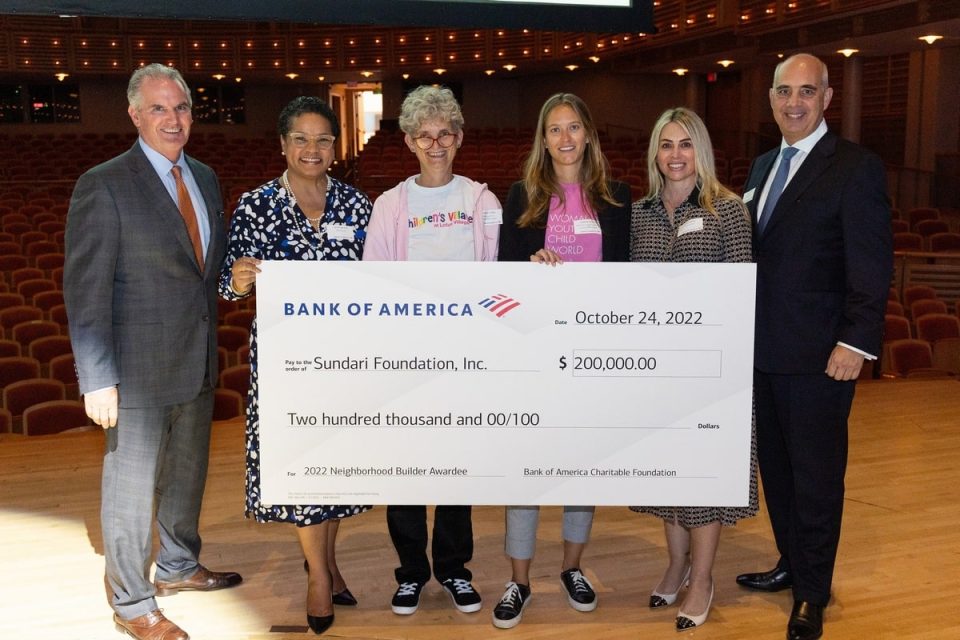 Programs and services in Miami-Dade County addressing homelessness and supporting the arts and culture community will expand, helping more people chart a path toward economic opportunity with help from a multi-year grant from Bank of America.
Sundari Foundation Inc.'s Lotus House and Nu Deco Ensemble (NDE) have been named as the 2022 Bank of America Neighborhood Builders awardees for their work in the Miami-Dade community removing economic barriers and advancing economic opportunity.
Each organization receives a $200,000 grant over two years, comprehensive leadership training for the executive director and an emerging leader on topics ranging from increasing financial sustainability, human capital management, and strategic storytelling.
Recipients join a network of peer organizations across the U.S. and get the opportunity to access capital to expand their impact. The program continues to be the nation's largest investment into nonprofit leadership development.
"Nonprofits are the backbone to our local community as they are on the ground working closely with individuals, families, and community members to understand the obstacles many are experiencing and developing programs and services that will help alleviate or eliminate these barriers, helping them chart a path toward economic opportunity," said Gene Schaefer, president, Bank of America Miami. "It's important that we direct not only capital, but the necessary resources and training to help position these nonprofits and their leadership team for long-term success as they grow strategically and make a positive impact."
Lotus House is dedicated to improving the lives of women, youth, and children experiencing homelessness in Miami-Dade County. The organization will use their grant funding to help with the development of a new Children's Village facility. Expected to open in 2024, the Children's Village is a holistic children's resource center addressing the needs of Miami-Dade children and youth impacted by racial, ethnic, educational, health, and economic disparities and inequities. The Village will offer educational and therapeutic support, enriched programming, social services, and a wide range of community resources to heal, empower, and uplift the children, youth, and families of Lotus House.
"Bank of America has been our steadfast partner in shared mission and service for more than a decade, helping to make all we do possible," said Constance Collins, president and executive director, Sundari Foundation Inc. "We are so grateful for their support and excited to receive this impactful award to expand our work together to develop Lotus House's new Children's Village for the children and families of our beloved Overtown neighborhood."
Nu Deco Ensemble creates compelling and transformative genre-bending musical experiences that inspire, enrich, and connect new and diverse audiences and artists. The grant will allow NDE to hire additional staff specifically focused on development, marketing, and production/operations. These strategic hires will help advance the organization by furthering fundraising initiatives, enhancing the organization's voice and presence, and assisting with growing productions and internal operations. Additionally, NDE will be able to grow its live and virtual programs, education, and outreach initiatives in support of Miami-Dade County's musicians and creatives.
"This support from Bank of America comes during a critical moment for Nu Deco Ensemble.
This grant will help us significantly grow our capacity, allowing us to hire more key staff, and build out our musical infrastructure providing increased flexibility to bring our music to the greater community, both in person and digitally," said Sam Hyken, CEO of Nu Deco Ensemble. "We are incredibly grateful and humbled to be selected as one of this year's Neighborhood Builders and want to thank everyone from Bank of America for being a champion and supporter of the arts and culture in our community."
In Miami-Dade County, 30 nonprofits have been selected as Neighborhood Builders since 2004, with the bank investing more than $6 million into these local organizations.
The invitation-only program is highly competitive, and organizations are selected by a committee comprised of community leaders and past Neighborhood Builders honorees.
Through 2021, Bank of America has invested over $280 million in 50 communities through Neighborhood Builders, partnering with more than 1,400 nonprofits and helping more than 2,800 nonprofit leaders strengthen their leadership skills. Neighborhood Builders is just one example of how Bank of America deploys capital in communities, builds cross-sector partnerships, and promotes socioeconomic progress as part of its approach to responsible growth.