Creating a Healthy Environment in Lotus Village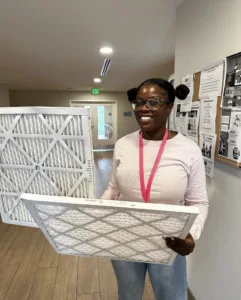 The Sundari Foundation, dba Lotus House Women's Shelter, strives to nourish and uplift women, youth, and children experiencing homelessness by providing healing sanctuary, support, education, tools, and resources that empower them to improve the quality of their lives on every level, achieve greater self-sufficiency, and build brighter futures. Lotus House Women's Shelter operates in Lotus Village, a state-of-the-art 100,000 SF facility in Miami, FL, which supports 520+ women, youth and children every night, making it the largest women's shelter in the country.
Through the COVID-19 pandemic, the importance of creating a healthy environment in a large, congregate shelter setting was evident. With the goal of increasing environmental justice for those who are amongst the most vulnerable in our communities, Lotus House embarked on a demonstration and public education project related to the air transmission of COVID-19 and importance of indoor air quality with support from the United States Environmental Protection Agency (EPA).
Individuals experiencing homelessness are disproportionately impacted by health issues, including respiratory and infectious disease and in terms of incidence, severity, emergency room (ER) attendance, hospitalization, deaths and COVID-19, making this project even more critical in a shelter setting. Many of the Lotus House guests originate from the Overtown area, where disparities in respiratory diseases are clear and 51.7% of children live below the poverty line. Through recent studies on the intersection between homelessness and environmental justice, it was concluded that homeless populations experience negative health outcomes associated with poor air quality and have up to 4x the rate of COVID-19 infection. Through increased understanding of respiratory illness and its prevention and treatment, as well as the direct benefit of residing in a facility that prioritizes indoor air quality (IAQ), the vulnerable women, youth and children who call Lotus House home have the opportunity to improve their individual health and advance the collective health of the community.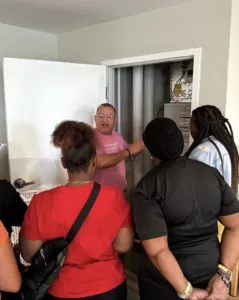 In addition to many improved operating procedures, the team advanced the air systems at Lotus Village to improve the IAQ and prevent the spread of infectious diseases within the facility. Every air handler system in the building was adapted to include an air purifying system that incorporates Ultraviolet (UV) light technology to kill viral, bacterial and fungal organisms with Sanuvox Technologies products. All air filters were upgraded to MERV-13 hospital grade filters. Additionally, mobile UV light towers are used regularly throughout the facility to disinfect surfaces in heavily occupied or exposed spaces. These combined strategies reduce the chance of infection to the 1400+ guests sheltered at Lotus Village annually.
Methods of education, prevention and involvement were incorporated to engage sheltered guests in the advancement of their community health. Bi-weekly notices to guests included information and education on COVID-19 prevention and treatment, including access to testing, vaccines and respiratory health care. All notices are distributed in English, Spanish and Haitian
Creole. Information on smoking, asthma, and other infectious vectors is provided, as well as children's educational activities. COVID-19 testing and vaccination opportunities were made available to guests on site regularly, as well as off-site services arranged with support from the Health and Wellness Team. Through participation in the Lotus House Operations Internship Program, currently sheltered guests receive education on IAQ and hands-on training to implement environmental safety measures throughout Lotus Village.
Collectively, these efforts to improve IAQ and prevent the spread of respiratory illnesses, including COVID-19, decrease the likelihood of illness for high special needs women, youth and children experiencing homelessness in Miami-Dade County. Other congregate shelters can benefit from these research and demonstration efforts to increase environmental justice for vulnerable populations across the country.
Sources
Baggett, T. P. (2021, February 5). Covid-19 and homelessness: When crises intersect. The Lancet Public Health. https://www.thelancet.com/journals/lanpub/article/PIIS2468-2667 (21)00022-0/fulltext
Goodling, E. (2019, December 18). Intersecting hazards, intersectional identities: A baseline Critical Environmental Justice analysis of US homelessness. Sage Journals. https://journals.sagepub.com/doi/full/10.1177/2514848619892433
Health Council of South Florida. (2023). Advanced search: Build a custom dashboard. Miami Matters: Measuring What Matters in Miami-Dade County. https://www.miamidadematters .org/?module=indicators&controller=index&action=indicatorsearch&doSe arch=1&showComparisons=1&l=10491
Rose, J. (2019, February 15). Unsheltered Homelessness in Urban Parks: Perspectives on Environment, Health, and Justice in Salt Lake City, Utah. Mary Ann Liebert, Inc. Publishers. https://www.liebertpub.com/doi/10.1089/env.2018.0023